Narasimha Temple
The temple is located near the Gundicha temple. There are two deities of Lord Narasimha one behind the other.
It is an ancient temple, with local stating that Lord Narasimha manifested here before Lord Jagannatha and His temple.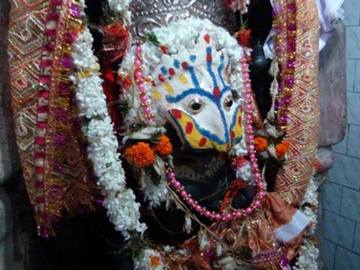 Shantha Narasimha (peaceful) is in the front. Shantha Narasimha has human-like features: a sharp nose, curvy moustache and an outstretched tongue. By seeing Shantha Narasimha one will feel cool and relaxed; all anger, anxiety and frustration will vanish. Once a Muslim marauder named Kalapahad ransacked Puri and broke many Deities. Upon seeing Shantha Narasimha, his anger subsided and he did not touch the Deity. Deity behind is Ugra Narasimhadeva . He is in the angry mood of Narasimha, which is not usually seen and may be seen with pujari's lamp.